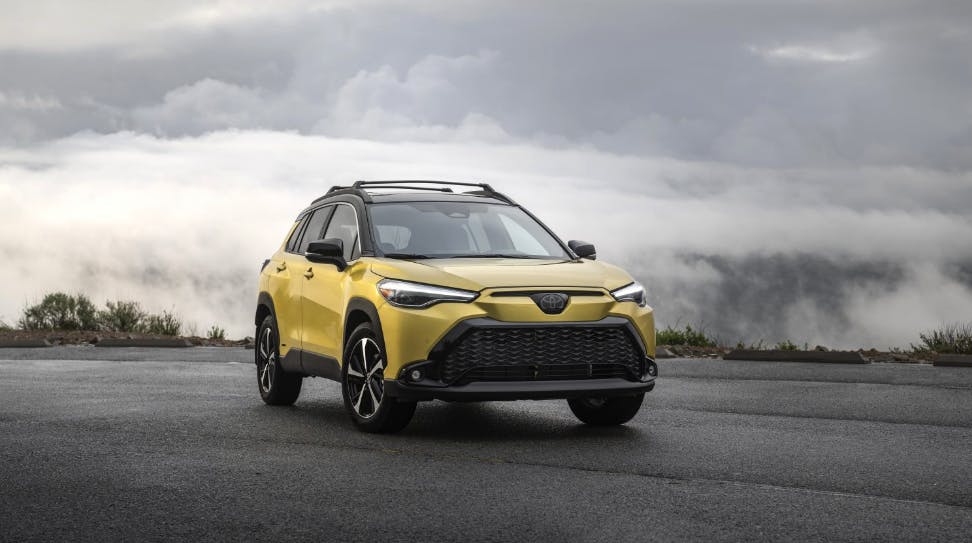 Toyota Corolla Cross Hybrid
If you're looking for an energy-efficient vehicle for your next ride, consider the all-new Toyota Corolla Cross Hybrid. This value-packed crossover provides functionality and a great driving experience and is coming to dealerships by June. This new crossover has a sporty nature and a detailed design that's intended to stand out from other cars on the road. Take a look at the details and see if this is the choice for your next new vehicle. 
Performance & Design
The new Corolla Cross Hybrid comes in an all-wheel drive that works to achieve power and efficiency and is available in three grades: S, SE, and XSE. It comes with 196 horsepower and goes from 0-60 in 8 seconds, and it has an EPA-estimated 42 combined miles per gallon. The lithium-ion battery is lightweight and has optimized cooling paths that reduce noise. It's also designed to be spacious and comfortable so you and your passengers can comfortably relax on every ride.
Multimedia
The multimedia system comes standard with Wireless Apple CarPlay® and Android AutoTM across all grades, as well as USB ports so you can charge your devices. It also comes with enhanced features that are made to improve convenience, such as voice-activated controls. Cloud Navigation is also available as it finds the latest maps and traffic information so that you can quickly reach your destination. It also allows for multiple connectivity options from dual Bluetooth® phone connectivity to support for Apple CarPlay® and Android AutoTM compatibility to Wi-Fi Connect subscription and available SiriusXM®, you'll be able to find what suits you most.
Safety
The 2023 Corolla Cross has a variety of cutting-edge safety features so you can feel confident on every journey. It can detect other vehicles and pedestrians and warn the driver, and if the driver does not react in time, the emergency braking system will engage. If the driver starts to drift into other lanes while driving, it will provide a warning for that as well. The cruise control can be activated when the vehicle is driving above 20 mph and uses distance control to maintain a preset distance from vehicles in front. It can also detect road signs such as speed limit and stop signs, and it has Automatic High Beams that activate when driving at night above 21 mph.
At Toyota of Olympia, we offer a variety of hybrid and gas vehicles to meet your travel needs. Browse our current Corolla Cross hybrids to see all the features they have to offer, and if you're looking for something else, take a look at all the new Toyotas we have available. If you are near Tumwater, Washington, and looking for a reliable new car or SUV come visit us today or schedule a test drive! We can't wait to help you find the perfect vehicle!
Sources:
Back to Parent Page