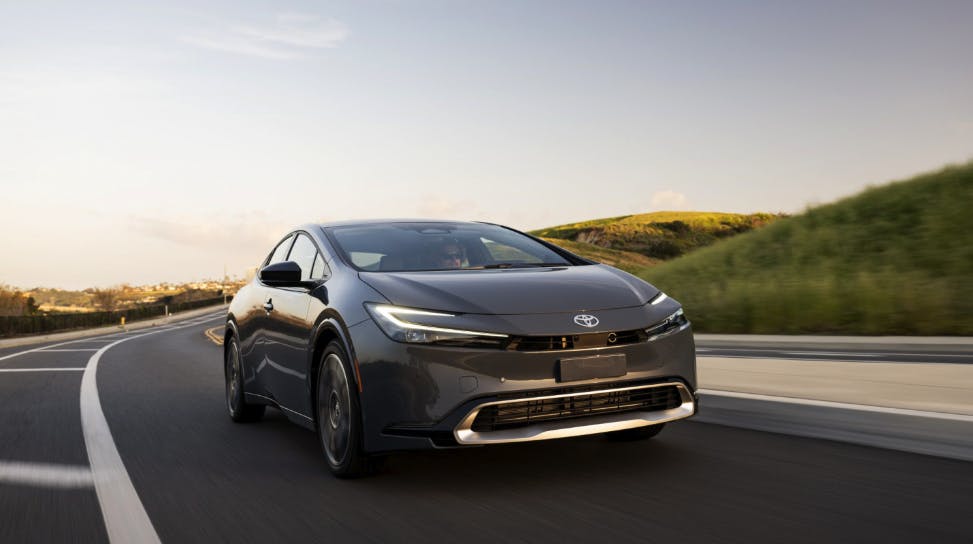 2023 Prius Prime
For those looking for an efficient, reliable plug-in hybrid car, the 2023 Prius Prime is the right choice, built to handle the average daily commute, with an estimated all-electric range of up to 44 miles and manufacturer-estimated 52 MPG. Along with its efficient hybrid powertrain, it also offers a sleek and sporty look with a comfortable interior made of premium materials. Experience all the road has to offer in the new 2023 Prius Prime with its extended electrical range and improved horsepower over the previous generation.
Performance
The Prius Prime is powered by Toyota's Hybrid Synergy Drive powertrain that combines the output from the gas-powered engine and electric motors, perfect for life on the go. The lithium-ion battery can be charged at home without any special equipment by plugging the supplied cable into a recommended 15A outlet. Under ideal conditions, it can recharge in eleven hours with a standard 120V outlet and within four hours using a level II charger. Even it if can't be plugged in, the car will continue to run like a hybrid.
There are also various driving modes available to use the different power modes depending on the driver's wants. EV Auto Mode relies on electric capabilities. HV/EV Auto Mode uses the gas engine in situations where it is needed, such as going up steep hills or driving at high speeds. Hybrid Mode automatically switches between gas and electric modes to combine power for the most efficient performance.
Efficiency & Engineering
Toyota's Fifth generation hybrid powertrain combines the inline M20A-FXS inline four-cylinder 2.0L gas engine with two motor generators to create an efficient and responsive performance. This system allows for 220 horsepower with 139 lb.-ft of torque. The Prius Prime also comes with an electronically controlled brake system that uses the electrical motors to recover electrical energy from the regenerative braking system to maximize fuel economy. All grades include three drive modes: Normal, Eco, and Sport. Normal mode is an ideal balance between acceleration and fuel economy, Eco improves hybrid performance through limiting power, and Sport mode enhances both performance and acceleration.
At Toyota of Olympia, we offer a variety of hybrid vehicles to meet your needs, from sedans to trucks to SUVs! Visit us in Tumwater to see what we have to offer or browse our selection of new Toyotas online. If you see a vehicle you're interested in, reach out to us online to schedule a test drive—we can't wait to help you find the perfect vehicle!
Sources:
Back to Parent Page