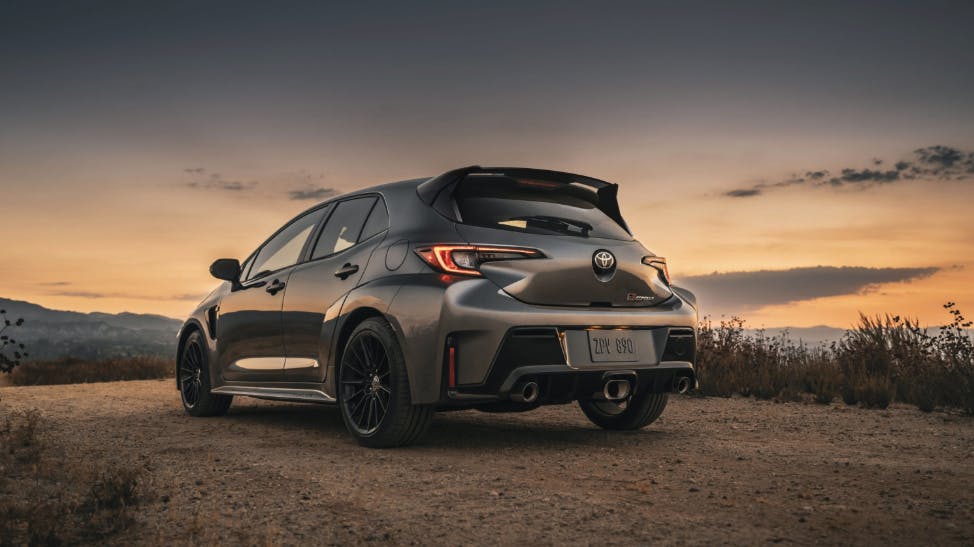 GR Corolla Circuit Edition Continues in 2024
Due to popular demand, Toyota has announced that it will continue to produce the GR Corolla Circuit Edition in 2024. The 2023 edition will be available this coming spring and will have standard features such as a three-cylinder turbo engine and GR-FOUR AWD system. While we wait for more details regarding the 2024 GR Corrolla Circut Edition, take a look at what the 2023 model has to offer.
Engineered for Performance
When you drive the GR Corolla, you'll get the performance you can feel with the same turbocharged G16E-GTS powerplant that is used in the GR Yaris that comes with boosted output. It produces 300 hp with a three-pipe exhaust system. The G16E  has motorsport tech that includes multi-oil jet piston cooling, large-diameter exhaust valves, and a part-machined intake port.
At the heart of the GR Corolla is the GR-FOUR All-Wheel-Drive system, which is developed in collaboration with the TOYOTA GAZOO Racing World Rally Team and delivers the traction and control needed for the optimal ride. It is designed with a variety of conditions in mind—whether you are driving through rain, dirt, or snow, the GR-Four system has the settings to match and deliver unparalleled performance. 
Designed to Handle
The new GR Corolla has a rigid body based on the GA-C platform with significantly more weld pints in the frame that strengthen the joints. The increased rigidity also comes from the extensive use of structural adhesive, with additional structural support in the underfloor tunnel and rear wheelhouse braces. The front suspension is lightweight and maximizes the grip potential of the tires. Power delivery and cornering abilities are maximized through circuit-tuned coil spring and shock absorbers.
Made for Aerodynamics
To maximize aerodynamic design and increase performance potential, the design of the GR Corolla focuses on reducing weight. The roof of the car is made of carbon sheet molding, while aluminum is used for the hood. It has a 0.35 coefficient of drag that can be partially credited to the ascending nose and tapered roof line.
The GR Corolla has a lot to offer for those looking for a high-performance sporty ride, and we're thrilled that Toyota has decided to produce a model for 2024! At Toyota of Olympia, we pride ourselves on offering a wide range of Toyota models as well as high-quality customer service. Browse our selection of new Toyotas, or take a look at other Corollas we have to offer. Visit us in Tumwater, Washington to find the right vehicle that works for you!
Sources:
Back to Parent Page