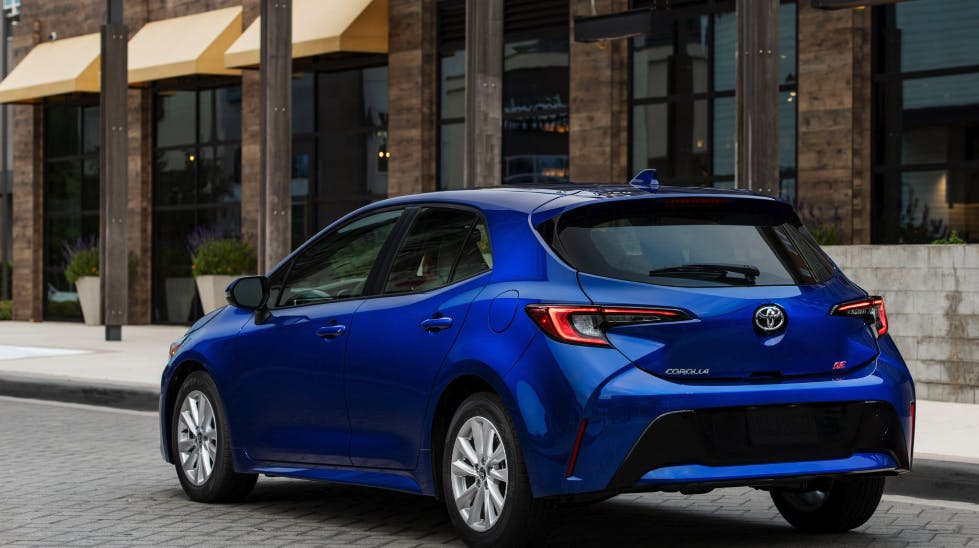 2023 Toyota Corolla Hatchback
For 2023, Toyota's Corolla Hatchback takes everything consumers love from the Corolla Sedan, and adds style and practicality to make for a stylish new vehicle. The 2023 model comes with an updated front grill and rear bumper, as well as premium headlights and taillights. With all the safety and multimedia upgrades from the Corolla Sedan, the Hatchback has additional features that make this sporty machine a great choice for your new vehicle. 
Colors & Styling
This model comes in two new standout colors, with Blue Crush Metallic replacing Galactic Aqua Mica, and Inferno replacing Blue Flame. Additional colors that carry over from 2022 include Midnight Black Metallic, Classic Silver Metallic, Finish Line Red, Magnetic Gray Metallic, Wind Chill Pearl, and Ice Cap.
Practicality is at the heart of the Hatchback, starting with a lightweight hatch that's easy to open and close. Six cubic feet of space can be added to the trunk with the available Enhanced Cargo Space option. With its useful features come a sporty style and muscular physique with chiseled lines and condensed highlights. 
Technology & Comfort
Your driving experience is easily customized through the available Fully Digital Gauge Cluster that allows for different speedometer styles. The MID system can also be customized, creating easy access to audio and multimedia systems. 
The center console offers a tray in front of the gearshift that's perfect for storing small items, such as a wallet, and when equipped, the tray can serve as a wireless charging area. There are also plenty of storage areas for drinks with front door cupholders that can fit 24 oz. bottles and rear seat cup holders that hold 16 oz. bottles. The XSE grade also comes with dual-zone climate control, so you and your passenger can maintain your optimal temperature. 
Design & Performance
The 2023 Corolla Hatchback is designed for comfort and control with a TNGA-C platform that creates a strong, tight platform for optimized handling agility, and the suspension system is adept and employs techniques to absorb bumps comfortably. It also comes with a 2.0-liter engine that delivers 169 horsepower at 6,600 RPM and an EPA-estimated 35 combined MPG for the SE grade. The XSE grade also has Automatic Stop/Start that reduces fuel usage in urban driving.
If you're looking for a new Toyota, consider getting the new Toyota Corolla Hatchback! At Toyota of Olympia, our experienced team can help you find the perfect vehicle that you're looking for. Visit us in person in Tumwater, Washington today to get started, or browse our large selection of other Toyota models online! 
Sources:
Back to Parent Page